The Chapel Oaks Mowing Team provides the church and community a location where the grounds have a good appearance. Additionally it gives team members an opportunity to reduce the cost of church maintenance, a chance to get to know other team members and an occasion to exercise and accomplish something at the same time!
Mowing happens each week from late spring to early fall (usually on Thursdays). Two team members work each week (one on a riding mower, the other push mowing, weed eating and blowing the cuttings back onto the lawn). The work generally takes 2 - 3 hours each week and team members help every 6 - 8 weeks (depending on the team size).
The physical appearance of the church makes a statement about how much the members care about it. The mowing ministry helps tell the community that we care about our church. 
Mowing is a great way to exercise and have a sense of accomplishment at the same time!
Interested in learning more about our Mowing Ministry program!  To contact Bryon, please fill out and submit the following form.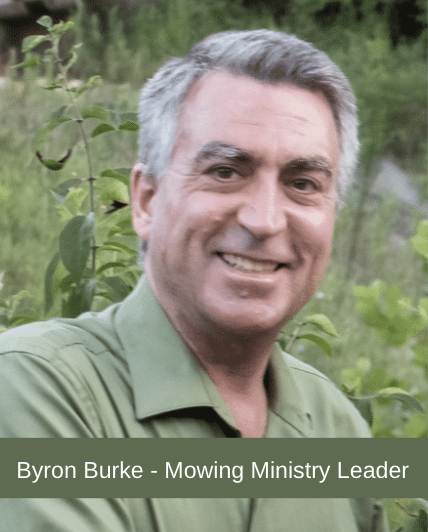 I help find volunteers for mowing and coordinate the schedule. I also make sure the supplies needed for mowing are available.
I have been a member at Chapel Oaks since 1993, have helped with mowing off and on for several years and have been the mowing coordinator since 2021.