Chapel Oaks 2022 Sermon Series - Chapel Oaks 2022 Sermon Series - The Chapel Oaks' Pastoral Team will be preaching an extended series inspired by the book "The Great Controversy" - by Ellen G. White. Weekly reading assignment related to the series: 
If you would like a free hardcopy of this book, one is available for pick up at the church or click here to read The Great Controversy online.
---
---
REGISTER NOW for Chapel Oaks VBS - July 18-22 from 6:00 - 8:30 p.m. This year's theme is "Monumental - Celebrating God's Greatness." Go off-road for a Monumental adventure through the colorful canyons and sunbaked trails of the southwest. By exploring God's awesomeness, kids form a rock-solid faith for the road ahead. Come make new friends, enjoy creative games, super-fun dinners, exciting adventures, and incredible music! Click here to register for VBS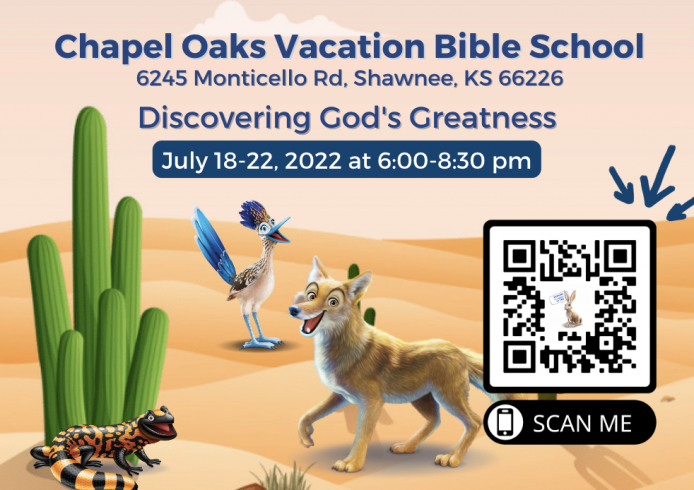 REGULAR WEEKLY/monthly HAPPENINGS:
SOLE - We meet Sundays at 8:00 a.m. outside at Chapel Oaks for walking, running, and friendship. Come build muscle, endurance, and community with us weekly. We start out as a group of people - we finish as a group of friends! 
HOPE (House of Prayer Everywhere): Join us Wednesdays at 6:30 p.m. as we worship in song, testimony, study and prayer: Isaiah 56:7 "I will bring them to my holy mountain of Jerusalem and will fill them with joy in my house of prayer. I will accept their burnt offerings and sacrifices, because my Temple will be called a house of prayer for all nations. For the Sovereign Lord, who brings back the outcasts of Israel, says: I will bring others, too, besides my people Israel." Adult Zoom Link: https://zoom.us/j/3138982184, meeting ID 313 898 2184 or by calling 312-626-6799 and entering the same meeting ID, (no password needed). Please bring your Bibles and invite a friend!
Church Services - Join us Saturday mornings for Adult and Children's Sabbath School from 9:30 – 10:35 a.m. Announcements start at 10:45 a.m. followed by the Worship Service at 10:50 a.m. The Adult Sabbath School and the Worship Service are live-streamed on our YouTube channel. Children's Sabbath School videos are available on our YouTube channel.
All Church Fellowship Luncheon (potluck style) in the Activities Center the first Sabbath of each month following the Worship Service. 
Health & Garden Club - Health & Garden Club meets on the third Saturday of every month following our church service. Join us for a fellowship meal by bringing a plant-based dish to share, then at 1:30 p.m., we will have a health and garden discussion.