We are a Seventh-day Adventist Church in Shawnee serving Johnson County in Kansas. As a multigenerational/multinational church that celebrates and affirms its diversity, Chapel Oaks affords you the unique opportunity to connect with people from all over the world. 
Through weekly worship services we praise God in singing, prayer, testimonies, and preaching His Word. If you are looking to grow your faith, find community and fulfill your God-given purpose, we have a parking spot and a seat saved just for you! Join us for worship every Saturday at 10:45 A.M. We also have exceptional programs for children of all ages beginning at 9:30 A.M. every Saturday morning.  Services are also live-streamed on our our Chapel Oaks Seventh-day Adventist Church's YouTube channel.
Church is all about connection—connection with God and with one another. And we'd love to connect with you! If you'd like to learn more about our local church, one of our ministries, or the global Seventh-day Adventist Church, please don't hesitate to contact us.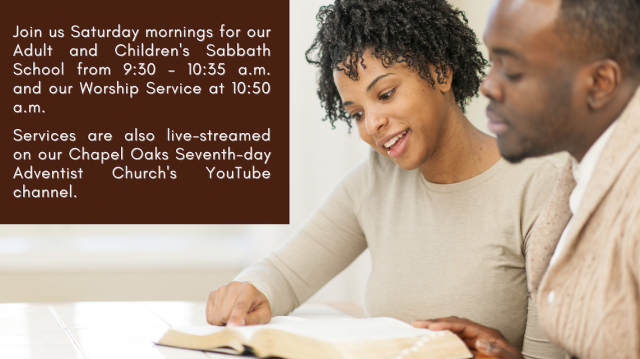 Chapel Oaks Mission and Vision Statements:
Mission: To know Jesus, be one in Him, and make Him known.
Vision: Every member spreading the transformative message of Jesus' unfailing love!
Chapel Oaks Seventh-day Adventist Church
6245 Monticello Rd
Shawnee, KS 66226-3110 
913-667-3802
Service Time:
Saturday 10:45 A.M.
Bible Study:
Saturday 9:30 A.M.
Wednesday 6:30 P.M.